Private Lessons- Mountain Bike
Our Mountain Bike Lessons are perfect for kiddos (5 years old and up) who are rolling along on two wheels, without training wheels, to kids who want to start gaining more confidence and learn mtb skills, and for kiddos who are confidently exploring intermediate/advanced+ single track and want to learn more:)
INTRO TO MOUNTAIN BIKING -We will start to introduce 2 paw riders to the skills and activities that will start your child's journey onto dirt! This will start with parking lot skills and then graduate to some easy singletrack riding.
*2 Paw Level – Pedaling (without training wheels) on pavement and/or some flat, wide dirt trails. 
INTERMEDIATE/ADVANCED MOUNTAIN BIKE SKILLS
Coaches will work with 3, 4 and 5 paw riders to enhance mountain biking skills such and climbing, descending, berms, braking, trail etiquette and more!
*3 Paw Level- Able to climb and descend paved pathways. Comfortable modulating speeds on downhills.
*4 Paw Level – Confident on dirt singletrack/Berms/Rollers,etc. Gears & Handbrakes mandatory. 
*5 Paw Level – 5+ Paw Afterschool Bike Club is for 7-10 year old rippers who are confident on all intermediate (blue square) MTB trails and some black diamond/advanced trails!  We will ride our faces off and have amazing adventures!
SEE OUR PAW LEVEL CHART BELOW!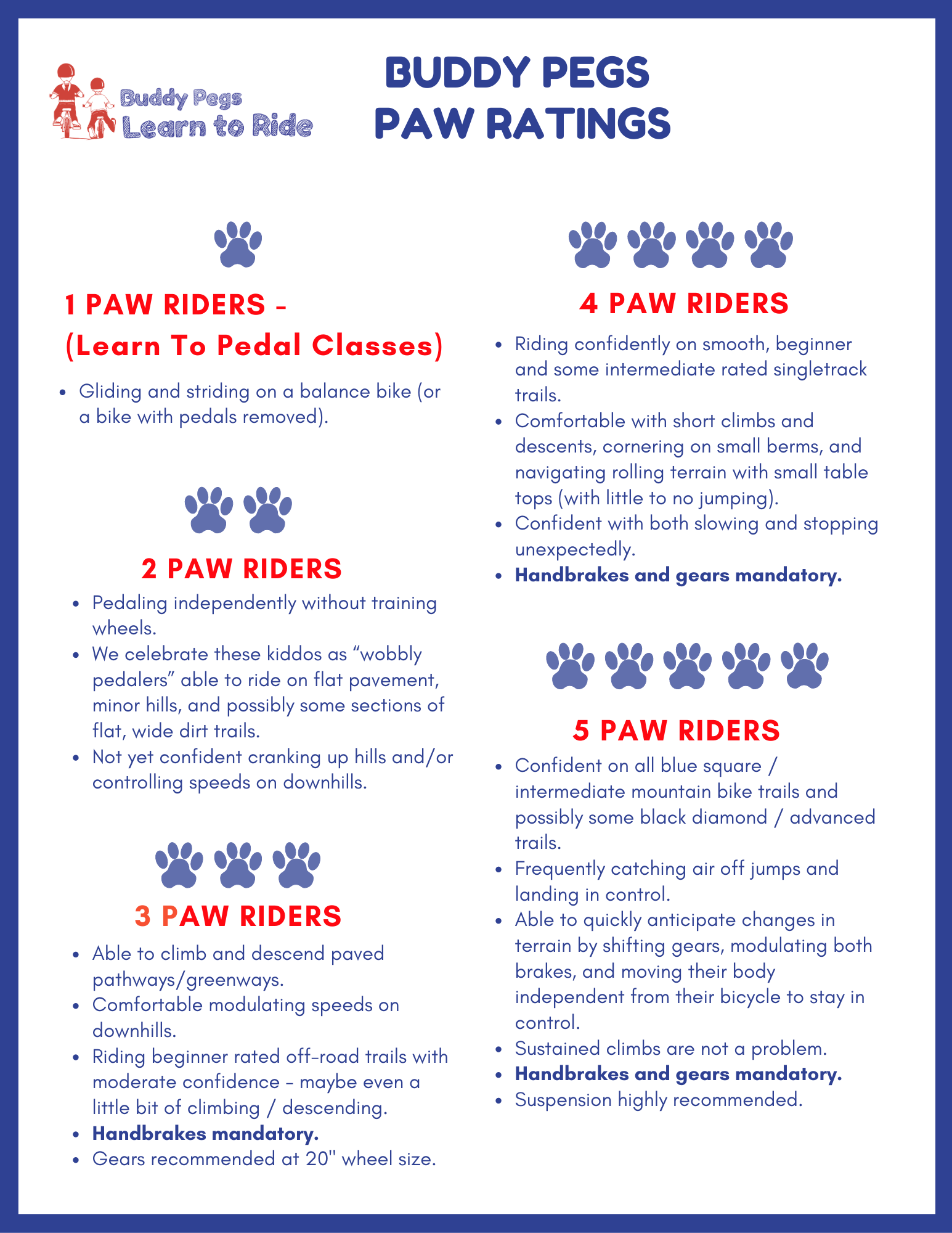 0
stars based on
0
reviews